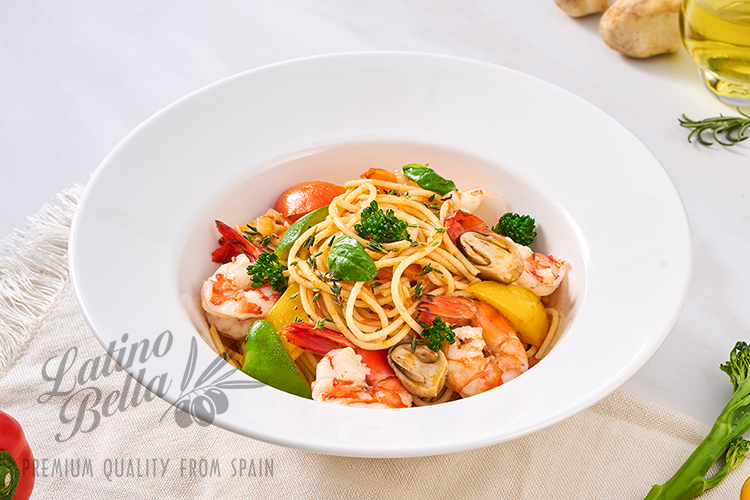 Stir-Fried Spaghetti With Shrimp
Ingredients
200

g

Prawn

150

g

mushrooms

40

g

3 colored bell peppers

red, yellow, green

2

tbsp

Onions

2

tbsp

garlic

1

tsp

chili

1

tsp

dried

1/4

tsp

salt & pepper

4

tbsp

Latino Bella Extra Virgin Olive Oil

100

g

Spaghetti

10

g

broccoli
Instructions
Shrimp wash, remove the head, peel, leave the tail, remove the black thread.

Mushrooms peel off the legs, soak in dilute salt water for 5 minutes, wash, drain. Washed bell peppers cut off seeds, cut large fibers. Washed broccoli cut to medium pieces. Onion peeled, cut small areca zone. Minced garlic.

Boil noodles in water with a little dilute salt for 7 minutes, take them out and rinse them in cold water, drain, and stir in 1 tbsp Olive Latino Bella Extra Virgin Olive Oil.

Put 2 tablespoons of Latino Bella Olive Oil in a pan, heat, add garlic to fry, stir fry with shrimp, season with salt and pepper, then add bell peppers, onions, broccoli, mushrooms, dried chili and rosemary to stir fry odor.

Add Spaghetti, salt, pepper and cheese powder and stir-fry until all together, turn off the heat.

Coming to a plate, sprinkle some Olive Latino Bella oil on top. Use it now.