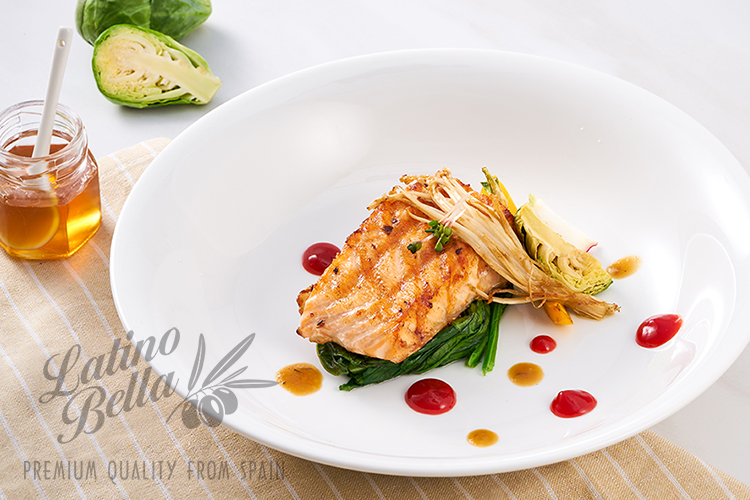 Salmon Grilled (Fried) With Honey
Ingredients
300

gram

Salmon fillet

100

gram

Spinach

1

tsp

Honey

3

tbsp

Latino Bella Pomace Olive oil

1

tsp

seasoning seed

1

tsp

Soy sauce

2

tsp

Latino Bella Olive Oil
Instructions
Bring the salmon to room temperature 10 minutes before cooking, wash and drain.

Preparethe dressing: Add 1 tbs honey, 02 tbs Extra Virgin Latino Bella Olive Oil, soy sauce.Prepare the spinach: Picked spinach, washed, boiled, drained.

Season fish with salt and ground black pepper, leave for about 15minutes to absorb spices. Cook on pan or grilled .

Meanwhile, warm a large nonstick skillet with 3 tbsp Latino Bella Pomace Olive Oil over medium-low heat (or grilled). Raise the heat to medium-high.

Place the salmon, skin-side up in the pan. Cook until golden brown on 1 side, about 5 minutes. Turn the fish over with a spatula, and cook until it feels firm to the touch and the skin is crisp if desired, cook about 5 minutes more. 

The skin can be served or removed easily with a knife or spoon. 

Spinach round the shape, put the salmon on top, used when it is still hot and serve with dressing.